Dr Eidelson News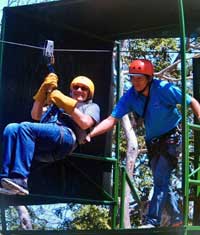 "Life is there to experience and enjoy. This drives my approach to medicine. My objective since the day I began practice has been to help people to live rich and fulfilling lives."
This is the moment of truth while zip-lining in Costa Rica.
I would never have guessed that "doctoring" might become the family trade. From left to right:: Sarah Eidelson MD (daughter), Mrs. Jacqueline Eidelson (wife), David Eidelson MD (son), and myself Dr. Eidelson. Very proud of the next generation of Eidelson Doctors.
LastUpdate: 2018-03-19 14:25:10